[sc:mobile-category ] Having purchased my Nokia 925 from overseas has had one downside to it… getting accessories is a real pain in the butt.
I haven't actually switched over to the 925 as my primary phone yet as I want to add the wireless charging to it in case I break something and the phone becomes unusable.  However that means I need a wireless charging shell.
The problem is that the 925 hasn't come to Canada yet so no one has any of the accessories.  Of course in this day and age that shouldn't be much of a problem, after all that's what the internet if for 🙂
I found a couple of the accessories I wanted on Expansys.ca, placed the order and waited.  The first problem is that it isn't actually a Canadian site, instead shipping from the US.  This adds significant cost to the items due to duties and taxes.
Then the site indicated 5-10 days for stock to arrive so no problem… a monthly later, stock is still listed at 5-10 days 🙁
At that point I had a friend heading to the US so they stopped in to a T-Mobile store for me, but alas, no luck so I left the order in place.
In the end it took over 2 months for Expansys to get stock.
I received both the wireless charging shell and the charging stand the other day, however there was a minor issue with the charging stand…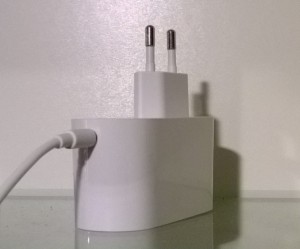 That's the charger plug, which would be fine if I lived in Europe, but doesn't work very well in Canada 😉
fortunately Expansys did include an adapter 🙂
I guess it will work, but I did expect the North American version of the charger.
Well there's no way I'm sending it back and waiting for another 2 or more months!
Now on to the hacking the wireless charging in to the phone… an update will follow with the results.